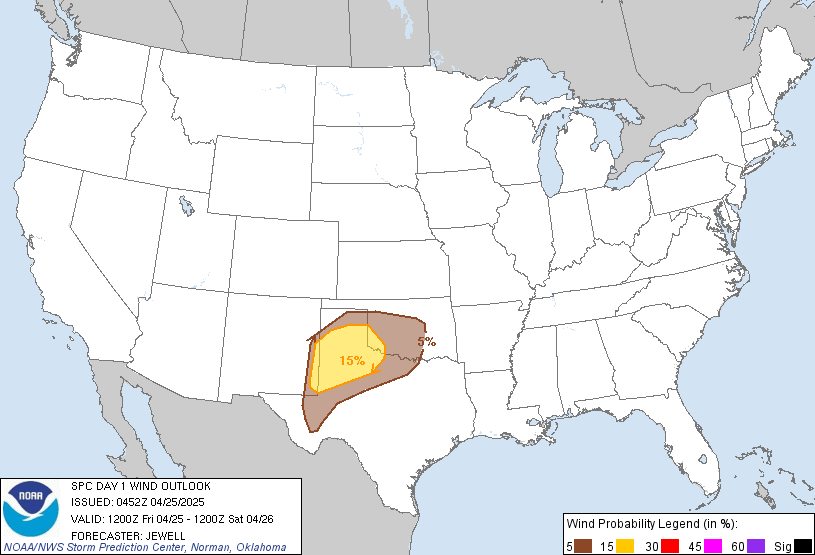 DAY 1 CONVECTIVE OUTLOOK AMEND 1
   NWS STORM PREDICTION CENTER NORMAN OK
   0112 AM CDT WED AUG 20 2014

   VALID 201200Z - 211200Z

   ...THERE IS A SLGT RISK OF SVR TSTMS ACROSS PARTS OF SERN ND/ERN SD
   AND INTO ADJACENT SWRN MN/NERN NEB/NWRN IA...

   AMENDED TO CHANGE MENTION OF NERN KS TO NERN NEB IN HEADLINE...

   ...SUMMARY...
   SEVERE THUNDERSTORMS ARE EXPECTED ACROSS PORTIONS OF THE NORTHERN
   PLAINS WEDNESDAY. LARGE HAIL AND DAMAGING WINDS WILL BE THE MAIN
   THREATS WITH THESE STORMS...BUT A TORNADO OR TWO COULD OCCUR AS
   WELL. OTHER ISOLATED STRONG TO SEVERE STORMS MAY OCCUR FROM LATE
   AFTERNOON INTO THE OVERNIGHT HOURS FROM THE MIDDLE AND UPPER
   MISSISSIPPI VALLEY SOUTHEASTWARD INTO THE LOWER OHIO AND TENNESSEE
   VALLEYS. STRONG WIND GUSTS AND SOME HAIL WILL BE POSSIBLE WITH THESE
   STORMS.

   ...SYNOPSIS...
   AS AN UPPER LOW OVER THE GREAT LAKES REGION WEAKENS...THE MAIN
   FEATURE OF INTEREST WILL BE A SHORT-WAVE TROUGH SHIFTING NEWD ACROSS
   THE ROCKIES TOWARD THE NRN HIGH PLAINS ON THE WRN FRINGE OF A S
   CENTRAL U.S. RIDGE.  WEAK SURFACE CYCLOGENESIS IS FORECAST ACROSS
   THE NRN HIGH PLAINS REGION AS THE UPPER SYSTEM APPROACHES...SETTING
   THE STAGE FOR A POSSIBLE SEVERE EVENT ACROSS THE ERN SD VICINITY
   DURING THE AFTERNOON AND EVENING HOURS.

   ...NRN PLAINS/MID MO VALLEY REGION...
   AS A SHORT-WAVE TROUGH SHIFTS NEWD TOWARD THE NRN HIGH
   PLAINS...ASSOCIATED SURFACE LOW DEVELOPMENT OVER THE HIGH PLAINS IS
   FORECAST...CONTRIBUTING TO AN EWD-SHIFTING DRYLINE ACROSS WRN
   NEB/WRN KS AND A NWD-MOVING WARM FRONT ACROSS THE MID MO VALLEY
   AREA.  AS THE WARM SECTOR HEATS/DESTABILIZES THROUGH THE
   AFTERNOON...EXPECT EVENTUAL DEVELOPMENT OF ROBUST CONVECTION ACROSS
   THE CENTRAL SD VICINITY -- AIDED BY A FAVORABLE INCREASE/VEERING OF
   FLOW WITH HEIGHT.  ROTATING STORMS -- CAPABLE OF LOCALLY DAMAGING
   WINDS AND VERY LARGE HAIL -- SHOULD EVOLVE BY LATE
   AFTERNOON...SPREADING EWD ACROSS SD AND ADJACENT N CENTRAL/NERN NEB.
    ALONG WITH THE HAIL/WIND RISK...A TORNADO OR TWO CANNOT BE RULED
   OUT -- PARTICULARLY INVOF THE WARM FRONT WHERE LOW-LEVEL
   SHEAR/VORTICITY WILL BE MAXIMIZED.

   OVERNIGHT...STORMS SHOULD CONTINUE EWD/SEWD ACROSS WRN MN AND WRN
   IA...AS A LOW-LEVEL JET DEVELOPS/VEERS.  THOUGH OVERALL RISK SHOULD
   DIMINISH AFTER DARK...LIMITED POTENTIAL FOR HAIL/WIND MAY LINGER
   WELL INTO THE OVERNIGHT HOURS.

   ...MID AND UPPER MS/OH/TN VALLEYS...
   CONVECTIVE DEVELOPMENT/EVOLUTION REMAINS DIFFICULT TO DETERMINE ATTM
   E/SE OF THE NRN PLAINS SLIGHT RISK AREA.  DESPITE PRESENCE OF A WEAK
   SURFACE BOUNDARY EXTENDING SEWD FROM THE MID MO VALLEY ACROSS THE
   MIDWEST...MID-LEVEL RIDGING/HEIGHT RISES ARE EXPECTED ACROSS THIS
   AREA AS THE UPPER LOW OVER THE GREAT LAKES REGION WEAKENS THROUGH
   THE DAY.  RESULTING WEAK/BACKGROUND SUBSIDENCE IS LIKELY TO SUPPRESS
   ROBUST CONVECTION TO SOME DEGREE.  INDEED...MOST HIGH-RES
   CONVECTION-ALLOWING MODELS STRUGGLE TO MAINTAIN ORGANIZED DIURNAL
   CONVECTION ACROSS THIS ZONE.  STILL -- FUELED BY MODERATE
   DESTABILIZATION -- A FEW STRONGER AFTERNOON STORMS MAY OCCUR ACROSS
   PORTIONS OF THE REGION.  LATER IN THE PERIOD...STRENGTHENING
   LOW-LEVEL WARM ADVECTION FROM THE W/SW IS EXPECTED AS A LOW-LEVEL
   JET DEVELOPS/VEERS...WHICH COULD SUPPORT SOME INCREASE IN CONVECTIVE
   COVERAGE ACROSS THIS REGION...AS WELL AS A POSSIBILITY THAT ONGOING
   STORMS SPREAD SEWD FROM THE MAIN SEVERE RISK AREA FARTHER NW.  

   GIVEN THE AMPLE THERMODYNAMIC ENVIRONMENT IN PLACE...MODERATE NWLY
   MID-LEVEL FLOW WHICH SHOULD RESIDE ACROSS THE AREA THROUGH THE
   AFTERNOON AND EVENING WILL SUPPORT SHEAR SUPPORTIVE OF A STORM
   ORGANIZATION.  THUS...ANY STRONGER CELLS DEVELOPING OVER THE AREA
   FROM AFTERNOON ONWARD MAY POSE A RISK FOR ISOLATED/MARGINAL HAIL
   AND/OR DAMAGING WINDS.  THUS -- WILL MAINTAIN 5% SEVERE RISK ACROSS
   A BROAD AREA...WITH ANY POSSIBLE AREAS OF MORE CONCENTRATED SEVERE
   POTENTIAL DIFFICULT TO NARROW DOWN ATTM.